Shed Homes and House Extensions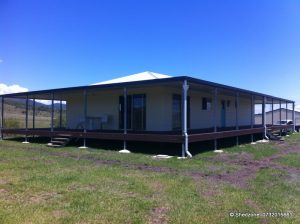 Looking to build your new steel shed house, granny flat, pool house or home extension? ShedZone can help you through the entire process including council and BCA Class 1a approvals. From the engineering of the steel frame and council approvals through to the installation of your shed home, we're here to make your dream home a reality! We'll even point you in the right direction for getting your amenities and appliances set-up. Kit D.I.Y. prices also available upon quote request. We service all areas in the Brisbane area including the Scenic Rim and Beaudesert areas.
Get a quote today to find out more details!
<ul class="product_color"><li class="color1″>Manor Red</li><li class="color2″>Jasper</li><li class="color3″>Classic Cream</li><li class="color4″>Surfmist</li><li class="color5″>Paperbark</li><li class="color6″>Dune</li><li class="color7″>Shale Grey</li><li class="color8″>Windspray</li><li class="color9″>Evening Haze</li><li class="color10″>Woodland Grey</li><li class="color11″>Pale Eucalypt</li><li class="color12″>Cottage Green</li><li class="color13″>Deep Ocean</li><li class="color14″>Ironstone</li><li class="color15″>Monument</li><li class="color16″>Basalt</li><li class="color17″>Cove</li><li class="color18″>Gully</li><li class="color19″>Mangrove</li><li class="color20″>Night Sky</li><li class="color21″>Terrain</li><li class="color22″>Wallaby</li></ul>
Our Shed Homes are fully customisable and come with a full range of utilities that will fit your budget! We will work with you to make your dream of owning your home a reality making sure we meet strict council restrictions and building what you want!
We can organise electricity, plumbing, cooking utilities and more! Just ask one of our friendly sales team who can give advice, even before you get a quote!
We fabricate your shed home at our plant in Ipswich keeping costs down and your money local! ShedZone have experience in making livable shed homes that will let you have the lifestyle you've always wanted!
Request a quote from us today for more details!