Carports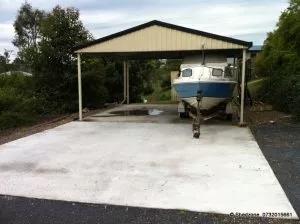 ShedZone builds all its garages in Brisbane using Colorbond or Zincalume steel fabricated by locals in Ipswich.ShedZone's carports are all fabricated and installed by Brisbane locals. We source all our materials from local businesses, so your money stays local. ShedZone's carports are indestructible; we have developed the most secure method of anchoring your shed to your concrete slab. This can give you comfort and peace of mind your car will be safe and sound next time that extreme Queensland weather comes full force into your property. Our skilled boilermakers weld 10mm steel plates to our galvanised rafters and use 25mm x 25mm box sections as reinforced stiffeners into our columns and are bolted using 16mm bolts. Our columns are then bolted to precast hot-dipped galvanised stirrups cast into the slab.
ShedZone uses Colorbond roofing on all carports, we provide all roofing solutions for your next carport. With 100+ years of combined experience, we've seen it all.
Skillion Carport
The skillion roof option is great if you're looking to attach your carport adjacent to your home. It is also the most cost-effective carport solution if you're looking for a stand-alone, freestanding carport.
Gable Carport
Gable roof carports are great for free-standing carports since they are the most aesthetically pleasing and can work well if you want to build a garaport, which is a garage and carport put together. Additionally, the gable carport will keep your property cooler, since the roof will see less sunlight.
Dutch Gable Carport
The Dutch Gable is a popular solution for people who have Dutch gables on their pre-existing home. Matching your carport to the design of your home can be especially aesthetically pleasing and add extra value to your home when it becomes time to sell.
Manor Red
Jasper
Classic Cream
Surfmist
Paperbark
Dune
Shale Grey
Windspray
Evening Haze
Woodland Grey
Pale Eucalypt
Cottage Green
Deep Ocean
Ironstone
Monument
Basalt
Cove
Gully
Mangrove
Night Sky
Terrain
Wallaby
Premium Flashings
With our fascia flashings, ShedZone can make your new carport look like it was always meant to be a part of your house! You can choose all Colorbond materials to match to your home.
Roofing and Dimensions
Depending on your designated site, ShedZone can customise the size, height and type of roof for your new carport! All designs are site-specific and our sales staff will visit your location, free of charge!
Concreting
ShedZone provides a concreting service for posts and slabs depending on your needs. Ask our sales team upon quote request for more information!