Farm Sheds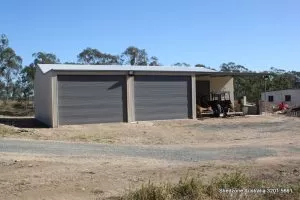 Need a new shed space for your industry? ShedZone offers solutions for Hay Sheds, Machinery Sheds and Skillion Buildings throughout the Lockyer Valley, Scenic Rim and Beaudesert areas.
ShedZone's have developed the most secure method of anchoring your shed to your concrete slab. This can give you comfort and peace of mind your assets are protected the next time extreme Queensland weather threatens your industry. Our skilled boilermakers weld 10mm steel plates to our galvanised rafters and use 25mm x 25mm box sections as reinforced stiffeners into our columns and are bolted using 16mm bolts. Our columns are then bolted to precast hot-dipped galvanised stirrups cast into the slab. ShedZone can scale our solutions to suit your needs.
Hay Sheds
ShedZone can build your hay shed open or partially enclosed. We can increase the height and span to cater to your storage needs. Using the highest quality steel and our unique anchoring method, your investment will not blow away with the wind.
Skillion Buildings
Skillion buildings are perfect for large machinery sheds or any shed which needs spacious open frontage for easy access. Often you can use a large skillion building as an awning or annexe to pre-existing infrastructure. Skillion buildings are a terrific way to centralise your machinery shed with your barn or storage shed.
Machinery Sheds
We get it, your farm machinery pieces are your most expensive assets. You need to protect them but need ease of access. ShedZone's secure method of shed anchoring will keep your most valuable assets safe from the elements. Get a quote below to get the process started!
Manor Red
Jasper
Classic Cream
Surfmist
Paperbark
Dune
Shale Grey
Windspray
Evening Haze
Woodland Grey
Pale Eucalypt
Cottage Green
Deep Ocean
Ironstone
Monument
Basalt
Cove
Gully
Mangrove
Night Sky
Terrain
Wallaby