Patios & Decks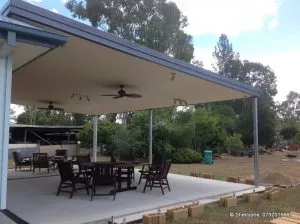 ShedZone builds all kinds of Patio designs with both insulated and more cost-sensitive non-insulated solutions. Patios are the ultimate tool for the outdoor entertainer in the Brisbane summer. ShedZone can deliver your dream outdoor entertainment space through every step from ideation to the final build.
An insulated patio will keep your outdoor space cooler during those hot Brisbane summers. With the ceiling fan and an insulated roof over your head, there will be no need for the expensive air conditioner. An insulated patio is a perfect place to watch the kids play in the pool from.
Our patio prices range from non-insulated panelling to 50mm and 100mm insulated panelling. The cost of your patio will depend completely on your project and we are looking forward to working with you on your dream. Get a quote to start the process today!
Decking
ShedZone, upon request, can organise decking for your next patio. We'll help you through the process of gaining approvals from the council and the building process.
Insulated Panelling
Our insulated panelling varies from 50mm to 100mm of insulation. Insulation will keep your shade cooler in the summer and keep the heater warmth in during winter. The nature of patios are quite complex, but our ShedZone sales team have the experience to get you through! Get a quote from us today!