Office Fit-Outs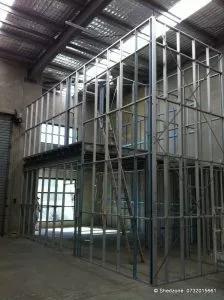 Need an office working space built on your pre-existing warehouse or factory floor? ShedZone can build elevated offices with an outlook over the factory floor and we can create ground solutions. No matter what, ShedZone will always endeavour to maximise the efficiency of space in your industry. By using our mezzanine flooring solutions and internal walls, we can create your first-floor office space.
If you've built a smaller shed in your backyard that you would like to use as your office, you can do that too! ShedZone can fit-out all shed sizes as a workspace for your industry, no matter the size.
You have the vision, we can build it! Contact us to get a free, no obligations quote.