Covered Outdoor Learning Areas (COLAs)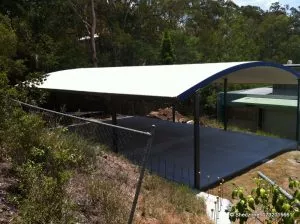 We'll fabricate your school's covered learning area specific to your school's landscape and needs.
For your school's next outdoor area covering project, give ShedZone a call to see what we can do for your school. We have worked with St Edmund's College in Ipswich, QLD to create covered outdoor learning areas which are compliant with the Queensland Government's regulations and loved by students.
Our COLA's can cover over your tennis and basketball courts, or just a predetermined area which you can use for school assemblies or parades. We build the size you want.
We have the roofing options to prevent rain damage and to suit the sun angles at your school to optimise solar panelling opportunities and reduce heat.
We can install ball guard and anti-bird roosting solutions
We can also create covered walkway solutions using the same solutions for your school
Contact us for more information and we'll build what you want!
Manor Red
Jasper
Classic Cream
Surfmist
Paperbark
Dune
Shale Grey
Windspray
Evening Haze
Woodland Grey
Pale Eucalypt
Cottage Green
Deep Ocean
Ironstone
Monument
Basalt
Cove
Gully
Mangrove
Night Sky
Terrain
Wallaby
Our customisations are built to suit your needs, speak to one of our sales staff to see how we can help you. Consider ShedZone for your next COLA.