Storage Sheds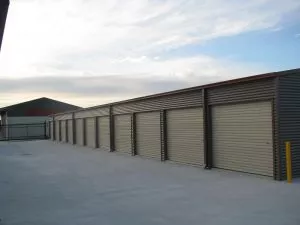 At ShedZone we build storage solutions for residential and commercial clients. If you are a residential client, using one of our garage solutions will be more relevant to you as different regulations apply.
If you're looking for an on-site, storage solution for your industry, ShedZone can build a commercial-scale storage solution for you. Complying with all BCA building code Class 7b (or 8, 9b, and 10) we're experienced with building regulations and will ensure fast progress is made on your project.
ShedZone has built private, boutique shed storage facilities in the past and are committed to building your storage solution today. Without compromising on security, we'll build you a cost-effective, high-quality facility.
As a privately owned and run business ourselves, we understand the time-sensitive nature of building projects. We can fit out your storage shed with shelving (or any other solution) to get the job done. We understand each project is unique, so feel free to contact us with some of your basic specifications and we'll build what you want!
Manor Red
Jasper
Classic Cream
Surfmist
Paperbark
Dune
Shale Grey
Windspray
Evening Haze
Woodland Grey
Pale Eucalypt
Cottage Green
Deep Ocean
Ironstone
Monument
Basalt
Cove
Gully
Mangrove
Night Sky
Terrain
Wallaby
We understand you want to keep your cost down without compromising on security. So we'll ensure that happens.
You'll work with our managing director, personally, to make sure that everything is completed to your specifications. At ShedZone, we build what you want!