Warehouse & Factory Buildings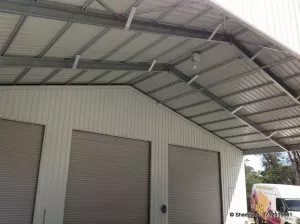 ShedZone is experienced in complying with all BCA regulations and will get your project up and running in a time-effective way. We are a privately owned and run business ourselves and will work to build a high-quality project in a time-sensitive manner. We can get your Brisbane commercial shed project done!
Our shed components are sourced from Brisbane local businesses and fabricated in Ipswich, so you can be assured your investment will stay local. Contact us for a free, no obligations quote so we can build what you want!
Warehouses
We understand that inventory management is key for your business. We can build you a design that will allow you to utilise your warehouse's space at maximum capacity while ensuring full accessibility for your inventory. We can build as few or as many access bays as you need, create air conditioning solutions, and optimise your roofing for solar panel installation.
Factories
ShedZone can get your small manufacturing building ready for operation. Let us know your function and we can build the solution for you! We can build your functional building today.
Commercial Workshops
ShedZone understands that you may just need a space to operate from that doesn't have a specialised function and is just a multi-functional workspace. We can build your commercial workshop compliant with all relevant BCA regulations. Let us know the size of your project and we will build what you want!
Manor Red
Jasper
Classic Cream
Surfmist
Paperbark
Dune
Shale Grey
Windspray
Evening Haze
Woodland Grey
Pale Eucalypt
Cottage Green
Deep Ocean
Ironstone
Monument
Basalt
Cove
Gully
Mangrove
Night Sky
Terrain
Wallaby
All our sheds including warehouses and factories are built to suit your special requirements. At ShedZone, we build what you want! Whether you need a specific light outfitting, extra air conditioning or solar panel optimised roofing, ShedZone can help you to achieve your business goals.
We'll give you cost-effective solutions without compromising on security and reliability. Every single job is a new job. We lean on over 100 years of combined experience while being innovators in the industry. For your next Brisbane industrial shed structure, get a quote from us!